Big Changes to Your Business Revenue All from One
Complimentary Review
The Electronic Payments program through SBGA is about more than just processing credit cards. It's about giving your business the tools and services it needs to succeed. SBGA is here to help you develop and expand your business, and assist you in optimizing all the products and services that we provide to give you the maximum advantage in the marketplace.

From deep discounts to bundled services, SBGA is here to make sure that your business stays thriving. Get
your complimentary check-up from a certified SBGA business consultant today and confirm that
you're making the best financial decisions for your business. When it comes to
servicing our members, we aim to give you more options, more opportunities, and more
help. If you're looking for a way to boost your profits and open your business to more
customers, then SBGA's Electronic Payments program is key to your business success.
Give your customers the power to pay the way they want and increase your bottom
line revenue too with SBGA.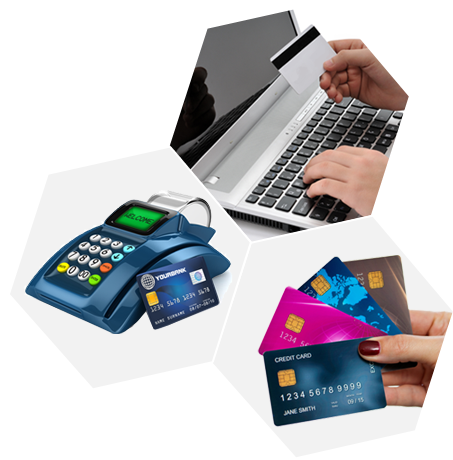 Processing Solutions for Every Business Institution
Whether you're in a store, online or on the go, we have the processing solution to make sure that your business always has a way to get paid. At SBGA, we offer everything from standard countertop terminals and smart phone card readers to online shopping carts and POS systems. All the accessories are also here to make sure you get the best savings on every transaction. We have check readers for guaranteed check funding, card readers that attach to your virtual terminal for swipe rates and PIN pads so you can qualify for 0% debit transactions.

Another thing you automatically receive with SBGA's Electronic Payments program is protection. SBGA works hard to keep your customer information safe with our PCI compliant terminals and our Data Protection Program that helps prevent the after-effects of a data breach. The average data breach costs a business over $50,000 in fines, fees, and customer confidence – would your business survive? With SBGA's Electronic Payments program, we aim to ensure that it will.
More Ways to Get You Paid SBGA's Electronic Payment program isn't only about taking cards. We also offer helpful tools to make sure that your customers have a variety of ways to pay. Our recurring billing program is the perfect way to bring in payments from your customers with subscriptions, monthly dues or membership fees. Simply enter their information once and eliminate all future manual entry errors. From there, our system will handle the rest to make sure that your business gets paid, over and over and over. If you're looking for a solution for your check writers, we offer services and equipment to make sure they can pay, and you're not chasing down bad checks. Once the check is approved, your funds are guaranteed. If you're looking for a way to keep funds in your store, we have a gift card program. Gift cards not only advertise your business and bring in new customers — they can also be used as store credit for returned items. Many businesses also qualify for our free gift card program; make sure to ask your SBGA business consultant what your business can do to keep customers spending!